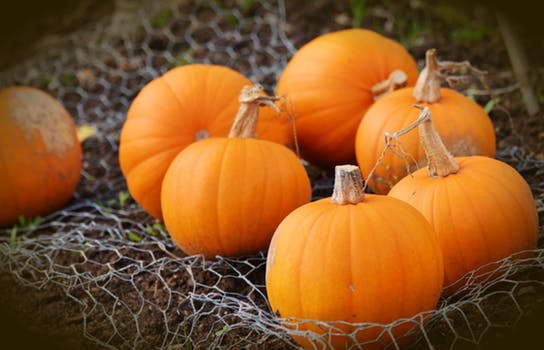 HAUNTED RIDE – OCTOBER 20TH
7-9 pm, cost $2 per person
After its initial debut last fall, the Haunted Ride had such overwhelming success that it is back with a new scary route and an extra tractor and wagon to help control the line ups. Taking place on October 20, 2018 at dusk, this event is a must for all who like a little thrill in their life and can enjoy a real hayride on a wagon! Takes place at Assiginack Arena at 59 Vankoughnet Street, Manitowaning.
PUMPKIN FESTIVAL – OCTOBER 21ST
11-3 PM
The following day, October 21st, dawns the Pumpkin Festival! Event takes place at Assiginack Fairgrounds at 59 Vankoughnet Street, Manitowaning. No admission to get into event.
Activities include:
LIVE on site FORTUNE TELLER
Craft vendors
Seed spitting
Games-chalk drawing,  bowling, bean bag throwing and more
Contests:
All entries must be in by noon for judging:
Bagel Bake Off for Kids
If stuck for a bagel recipe, try this super easy 2 ingredient bagel recipe which we have tested over 200 times!
2 age categories (8 and under, 9 yrs +) with a 1st prize of $50 and 2nd prize of $25 for each category.
Pumpkin Muffin Contest
Bring in 3 pumpkin muffins.
2 age categories, 17 yrs and younger and 18+ yrs of age, with a 1st prize of $50 and 2nd prize of $25 for each category.
Paper Mache Contest for Kids
1st place – $30, 2nd place – $20, 3rd place – $10
Seed Spitting Contest – $20
Hay Bale Throwing Contest
See how high you can throw the haybale onto the wagon! 2 categories ages 16 and under, adults
Prize of $50 each for best in each category.
PUMPKIN CATAPULT
It is back with a NEW Kids category!
KIDS CATAPULT – 1:30 pm
Kids are encouraged to build their own small scale version of a catapult to be judged with a tennis ball. Top 3 prizes for the catapult that can launch the tennis ball the furthest. Event will take place at 1:30 pm near the tennis courts. The machine must must perform with some sort of swinging arm (trebuchet) to make the pumpkin travel. 1st – $50, 2nd – $30, 3rd – $20.
PUMPKIN CATAPULT 2 pm
The Pumpkin Catapult has new rules to ensure the playing field is level. Please see below.
Grand Champion wins a prize of $500
Two additional prizes of $100 each for Team with Most Spirit and the Catapult Catastrophe award.
Pumpkin Catapult/Trebuchet Rules
The Township will be enforcing the rules. The event will start at 2 pm. You are encouraged to come early so you are ready.
Pumpkins must weigh between 2 and 10 pounds. You are responsible to bring your own pumpkins (5-8 pumpkins)
Machine shall consist of springs, cords, rubber, dead weights, or other mechanical means of creating a stored energy.
The machine must perform with some sort of swinging arm (trebuchet) to make the pumpkin travel.
A mechanical Device may be used to cock machine.
These machines need a Back Stop.
Only 3 people will be allowed with the machine. No one else is allowed in the area or behind.
All machines must be able to load and fire within three (3) minutes. If a team is not ready to fire within that three minute window, the team may be skipped in order and allowed to fire last in the round, or may forfeit the shot at the discretion of the competition organizers.
Failure to oblige by the rules will result in disqualification.
You are encouraged to contact info@assiginack.ca if you have any questions or clarifications regarding rules.