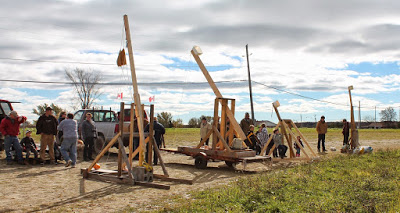 The Pumpkin Festival is back with an exciting added feature.  A HAUNTED RIDE through town  on the evening of Saturday October 21st from 7-9 pm starting at the Arena. Cost is $2 per person and children under 10 must be accompanied by an adult. Magic Manitou, the local magician will be there at 6:30 pm to entertain the kids while they wait to go on the wagon!
The Pumpkin Festival will take place in the afternoon of Sunday October 22nd from 12 – 3 pm. A magician – Stefano Presenza will be doing a live act from noon to 1 pm. Events include a baking contest, hay bale throwing, seed spitting, face painting and many more activities! Of course the excitement will be at its highest for the Pumpkin Catapult that will be at 2:30 pm. Rules below.
Contests:
Baking Contest –must be a pumpkin loaf- $50 for 1st Place
Best Decorated House   1st Prize-$100; 2nd -$75; 3rd-$50
Best Decorated Business/Organization       1st Prize-$100; 2nd -$75; 3rd-$50

Judging will be done Friday October 20th.

Paper Mache Pumpkin Contest:

age groups ages 4-8, 9-14, 15+ yrs of age.   1st Prize – $30;  2nd – $20;  3rd – $10
Pumpkin Catapult Contest  1st Prize – $500, will take place at 2:30 pm at fairgrounds. No need to register in advance but must have catapult ready to go at 2:30 pm. Event will take place on racetrack.
                Rules:
Pumpkins must weigh between 2 & 10 pounds.
Machine shall consist of springs, cords, rubber, dead weights, or other mechanical means of creating a stored energy.
A mechanical Device may be used to cock machine.
These Machines need a Back Stop.
Participants are responsible for bringing their own pumpkins.
All activities take place at the Manitowaning Fairgrounds.