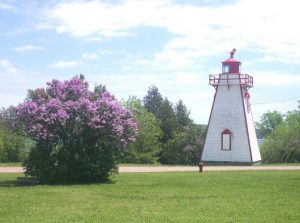 In 1883, the Federal Department of Marine and Fisheries working through the Department of Indian Affairs purchased a 50 square foot portion of land from the Anglican Church Mission for placement of a lighthouse.  Although construction was delayed, the Manitowaning Lighthouse was established in 1886.
The first keeper of the light was Benjamin Jones, followed by John Gourley Jr. from 1900 to 1906, then, J.J. Morrow from 1912 to 1916 and finally, Jack Clarke from 1926 to 1966.  The lighthouse was automated in the 1960's following Jack Clarke's retirement.
The Manitowaning Lighthouse is located at 188 Arthur Street in Manitowaning and is presently operated by the Canadian Coast Guard (CCG) Marine Navigation Services (MNS).  The building itself is not open to the public but it remains a notable historic site & popular attraction for visiting tourists.
Specifications
Location: Manitowaning Bay, North Channel, Lake Huron
Tower: White, wooden square pyramidal tower with green lantern
Light characteristics: Fixed – green
Visibility: 27.5 Km (16 miles)
Focal height in metres above water: 24.4
Operations: Seasonal
Current use: Active aid to navigation
Position: Latitude North: 45  53  42.6
Longitude West: 81  54  45.6