McLean's Park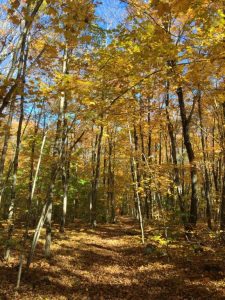 Donated to the Municipality by Don McLean, this beautiful wooded park is home to 4 trails, 3 of varying distance for
walking, running, hiking, or snowshoeing, and 1 trail reserved for bicycle trail riding. There is parking available off of New England Road and a covered pavilion in case of rain or for a picnic.
Located south of Manitowaning on Highway 6, turn down New England Road, signage for the park is on the right hand side.
In the winter months, the parking lot is open, the trails are groomed and you can borrow snowshoes from the municipal office at no cost. (156 Arthur Street, Manitowaning ON)
4elements Living Arts has placed a Drawing Box on the trail. What is a drawing box, you ask? There are drawing supplies inside the box, trail users are encouraged to draw a picture of whatever might be inspiring them at the moment, leave their picture and take another person's picture in return, and don't forget to sign the log book. Also take this time to stretch and prepare for the next section of trail!
Best Activities for this trail: walking, hiking, bicycling in the summer and snowshoeing in the winter.
Manitowaning Beach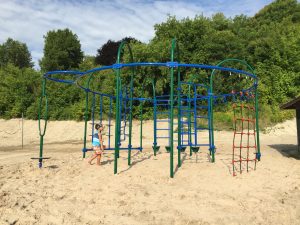 The beach in Manitowaning is located right in town on Bay Street. There are public washrooms available as well as free Wi-Fi from the Marina. The beach has a playground for children, a pavilion to escape the hot summer sun, picnic tables, and beautiful sand beach and warm water. Swimming lessons are conducted here each summer, see the Summer Recreation Guide for more details closer to July.
Boat Launches
There a number of Public Boat Launches in Assiginack. If you are looking to head into the big water (Manitowaning Bay, Lake Huron), the Bay Street Marina in Manitowaning will get you there. Lake Manitou can be accessed by the boat launch at Manitoulin Resort on the Bidwell Road.
Team Sports
The Township of Assiginack has a number of opportunities for residents and visitors to participate in team sports. There is a baseball field and two tennis courts located on the Arena grounds (59 Vankoughnet St).  And there is a beach volleyball court at the beach on Bay Street.
Other Recreation
Queen's Park – located at the corner of Queen and Arthur Streets.  Ideal for sitting, talking, and enjoying the company of your friends and family.
Assiginack Amphitheatre – located behind the Municipal Office, overlooking Manitowaning Bay.  A beautiful location to let your artistic creativity take over, paint a picture or make some music in this cozy spot.
Assiginack Arena/Fairgrounds – 59 Vankoughnet St.